Reunion Updates and News
If you would like to be added to the Hollister email list please send us a note including
your name and email address - click here to sign up and/or send us a comment.
---
2018 Reunion
USS Hollister (DD788)
Join the Portland, Oregon Reunion
September 25-29, 2018
Monarch Hotel and Conference Center
12566 SE Ninety-Third Avenue
Clackamas, OR 97015
Phone: 503-652-1515 or 1-800-492-8700
When Calling, ask for the USS Hollister DD-788 Reunion Block.
To get the reunion rate, reservations must be made by 9/05/2018.
For info/questions: Contact Joe Camp at jdcamp3011@gmail.com or call 360-944-7012.
For more information of upcoming US Navy Reunions and contact info, visit http://www.eugeneleeslover.com/Reunions.html
---
Reunion Photo Galleries
2013-2015 Reunion Photos - not available
If you have photos from any of these reunions, please forward to cworr78@gmail.com
2012 Reunion Photo Galleries - Seattle, WA
Bremerton Memorial Service | Reunion / People | Seattle Tour / Scenery
2011 Reunion Photo Gallery - Minneapolis, MN
2010 Reunion Photo Gallery - Charleston, SC
2009 Reunion Photo Gallery - San Diego, CA
2008 Reunion Photo Gallery - Branson, MO
2000 Reunion Photo Gallery - Shreveport, LA
1999 Reunion Photo Gallery - Kansas City, KA
---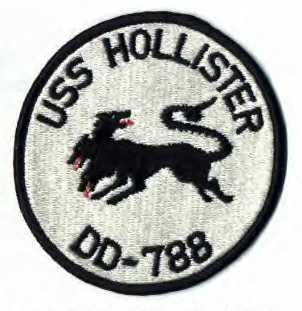 USS Hollister Reunion - Welcome Letter
USS Hollister Reunion information email series - 1st Issue
The Retired Enlisted Association Link: http://www.trea.org
The Hollister Reunion group annual dues for 2009 - $15.00.